Starting in 2018 Kerry O'Brien, Executive Director, and the Wheaton Chamber board recognized it was time to invest in the future of the Wheaton Chamber. "We have a strong and healthy membership, and a unique position – big enough to always meet new people, but not big enough to get lost" Kerry states, "but our visual brand was not doing a great job communicating who we are, and our site was overwhelming to navigate."
Looking at the big picture
In 2018 Jeffery James, a long-time chamber member offered to do a high-level brand assessment. The board enthusiastically received Spire2's Channel Balancing assessment and agreed that the Chamber's brand experience wasn't aligned with its brand values. Over the course of a few months, a plan was developed on how to execute recommendations in Spire2's assessment.
Doing something instead of everything
With limited funds, we focused on building a strong foundation and recognized we had to address the website — most people's main brand experience. Spire2 would develop a new identity, develop a brand voice, and develop templates for email communication that utilize the new brand identity. To save costs, Spire2 played a consultative role in upgrading the website hosted by Chamber site — making recommendations on site template and creating site architecture. Spire2 also recommended how to increase engagement of prospective members, how to create more value for members while improving engagement of the broader Wheaton community.
A brand with a voice
The Wheaton Chamber has a brand personality, and the goal was for the identity to bring that personality to life. "We wanted the brand to be more friendly while tapping into the rich history of the Wheaton Chamber dating back to 1916," says Jeffery James, principal of Spire2. "We chose fonts that had a bit of a historic and retro look but kept it youthful by pairing the main font with a modern script. We also altered the brand colors keeping red and blue, but picking more friendly tones that are a bit more playful." The logo was unanimously adopted by the board. To help a wide variety of staff and volunteers be more consistent, Spire2 developed a brand voice document — a guide to how to approach written communication that stays on brand.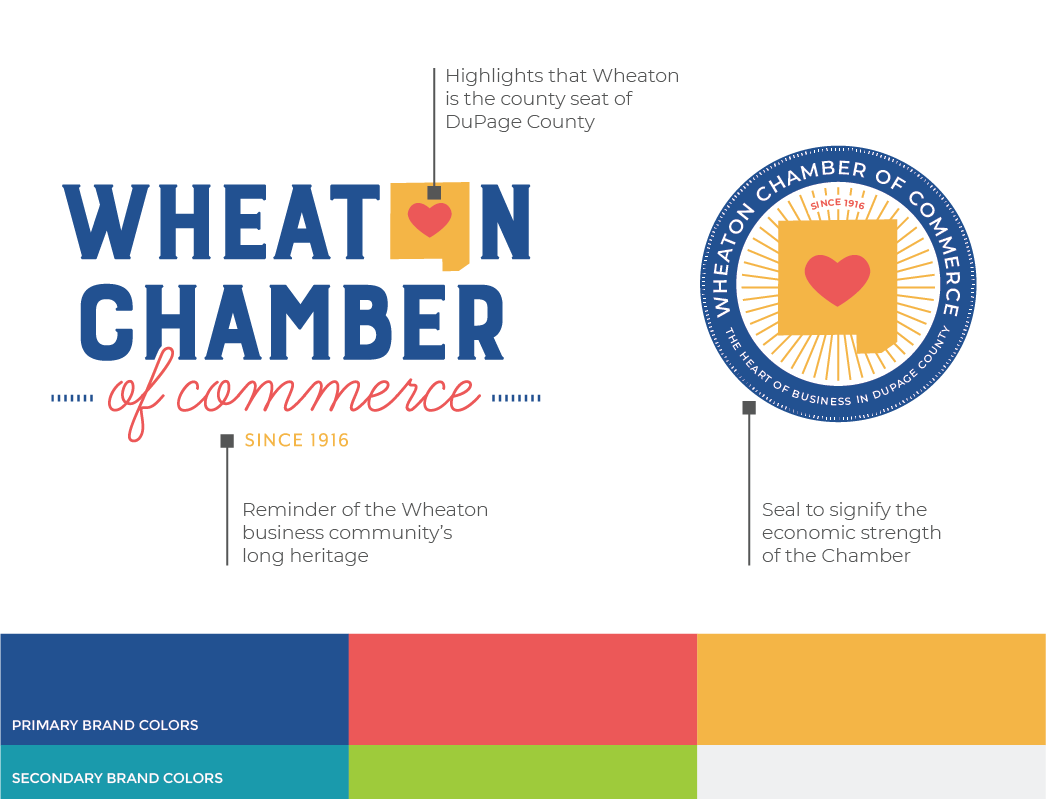 Bringing it all together
Chamber Master has been hosting the Wheaton Chamber website and powering the member portal for a number of years. They offered an affordable path to update the site to meet current technology standards. Spire2 helped us think through how we present information and developed the navigation and site map. This strategic help ensured that our site is much more user friendly.
"We are confident these enhancements will help the Wheaton Chamber present a strong brand image to the next generation of chamber members, while enhancing the chamber's relationship with the broader Wheaton community," says Jeffery James, principal of Spire2.