Keeping DuPage Top of Mind: Insights from Choose DuPage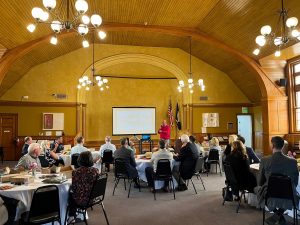 Greg Bedalov, president and CEO of Choose DuPage, was our featured speaker at the Wheaton Chamber of Commerce May luncheon at the DuPage County Historical Museum. With quotes from Mark Twain and some trivia, his presentation was insightful and eye-opening as Greg debunked myths about Illinois' business growth. He's been at the front lines of economic development in Dupage and northeastern Illinois for more than 15 years.
As chair of the newly-created Greater Chicagoland Economic Partnership (GCEP), Greg reported on this consortium of leaders from DuPage, Cook, Kane, Kendall, McHenry, Lake, and Will Counties and the City of Chicago. The goal is to drive economic growth and equity across the northeastern Illinois region. By working collaboratively with local and state governments and other leaders, GCEP recognizes data needs to be shared and accessible for all involved.
To receive a copy of Greg's slide deck, please email marketing@wheatonchamber.com.
For information about Choose DuPage, click here.
For information about Greater Chicagoland Economic Partnership, click here.