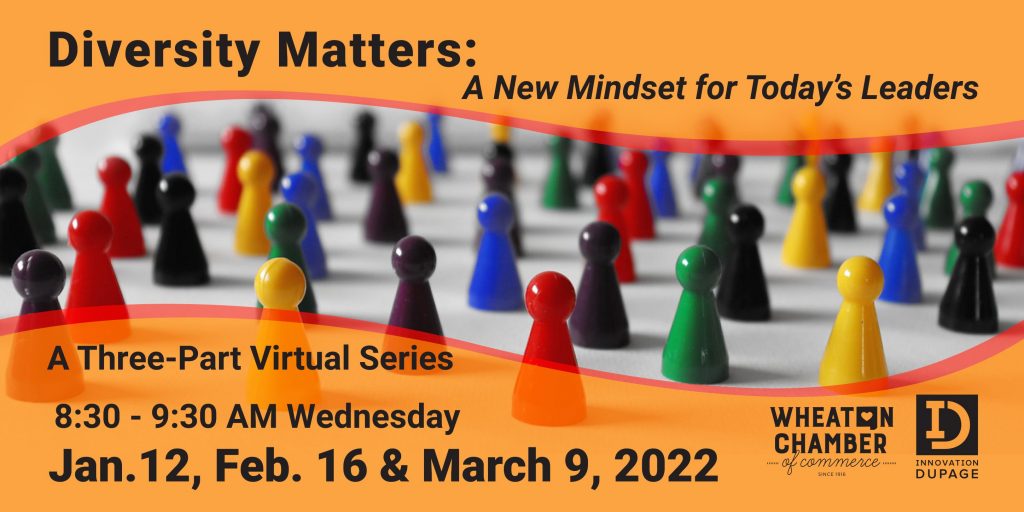 Diversity Matters: A New Mindset for Today's Leaders
A three-part virtual series January 12, February 16 & March 9, 2022
The terms "diversity, equity and inclusion" grab headlines as companies and communities reel from changes in our social structure. From the Black Lives Matter movement to rejection of gender normative roles, organizations and our culture are going through a sea change. This requires a new mindset for today's leaders.
The Diversity, Equity, Inclusion (DEI) Committee of the Wheaton Chamber and Innovation DuPage will host a three-part series designed to provide practical and informative programs to businesspeople in DuPage County. We can all agree on the importance of being as inclusive as possible, but what exactly does really mean? This series will answer questions about the current landscape, how to integrate DEI into your organization and how leaders can work together to be inspiring examples of inclusivity.
Part I
Wheaton & DuPage County: Today, 2030 and beyond
8:30 am to 9:30 a.m. Wednesday, January 12, 2022
Speakers:
David Roth, executive director, the DuPage Federation, David Roth. David will present data from Census 2020, highlighting demographic projections for 2030, 2050 and beyond.
Jacob Kniep, board member, OUTSpoken Leaders. As an active member of the LGBTQ+ community and founder of OUTSpoken Leaders, Jacob will share about the changing demographics in Wheaton and DuPage County.
Kate Beck, program coordinator, AbilityLinks, and Carlos Johnson, placement coordinator at DONKA, Inc. Kate and Carlos will discuss the need for inclusion for people with disabilities, both in the workforce and in our communities.  
Shefali Trivedi, executive director of Giving DuPage, will serve as moderator of this panel which will highlight the current and future demographics within DuPage County that are driving the DEI imperative.
Part II
DEI Terminology & Lexicon: Why Words Matter
8:30 a.m. to 9:30 a.m. Wednesday, February 16
Speakers:
Tracey Crawford and Oralethea Davenport, Northwest Special Recreation Association (NWSRA)
There's an entirely new language around diversity, equity and inclusion. This program will help demystify the new lexicon around DEI, providing us with a shared vocabulary to bridge the divide. Ms. Crawford and Ms. Davenport are sought-after speakers on the topic of DEI, and they bring experience in developing and training organizations in embedding diversity into their culture.
Part III
Getting Started - Crafting Your Diversity Statement
8:30 a.m. to 9:30 a.m. Wednesday, March 9
Speakers:
Tracey Crawford and Oralethea Davenport, Northwest Special Recreation Association (NWSRA)
Is your company ready to develop a Diversity Statement? This program will provide some guidelines and useful templates on how to get started. Ms. Crawford and Ms. Davenport return to the series to share examples from businesses and organizations, providing guidance on how to take this all-important step.
This program is generously supported by Innovation DuPage.