Fresh Ideas: A Mentoring Program for Wheaton Chamber Members
Share and learn as part of
"Fresh Ideas: A Mentoring Program for Wheaton Chamber Members"
Have you ever wanted to be a mentor? Or perhaps you need a mentor at this stage of your business or career. Whether you're a prospective mentor or a mentee, we have a Wheaton Chamber of Commerce member benefit created just for you!
Learn more about the details of the program before making a commitment.
Watch an introduction VIDEO HERE
Email us at marketing@wheatonchamber.com
or call us at 630-668-6464
Applications Now Open
Mentor Application  CLICK HERE
Mentee Application  CLICK HERE
This program is brought to you by the Ambassadors Committee of the Wheaton Chamber of Commerce, committed to welcoming and building deeper relationships between our Chamber members.
Here's what our mentees are saying about the program:
"You feel like you have an ally, that you're not alone."
"This gives me someone to turn to who has objectivity, someone committed to that time together to discuss what's important to me and my business."
"This gives me a different set of eyes on my business. She encouraged me to explore partnerships, and that's working..."
"[The value is in] the connection, someone else to call. I've had some big projects this year and my mentor is helping me learn how to say, 'No.'"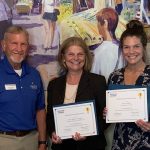 And here are a few insights from our mentors:
"I'm grateful to have this as an opportunity to stay connected."
"Love that the program is structured--that's invaluable!"
"When my mentor needed things I couldn't help with, I brought in someone who could..."
For more information about "Fresh Ideas" and how to become a mentor or mentee, please contact Ambassador Marty Keller, mkeller74@aol.com.